Since 1952 the Castlegar Air Cadets have been active participants in community events like Castlegar's Sun Fest, the Pass Creek Fall Fair, Remembrance Day ceremonies and Castlegar's Winterfest just to name a few.
The Squadron has had many homes in its nearly 70 years of serving the community. Starting its early days in the old Castlegar Elementary School which stood where the Castlegar Courthouse now stands. This headquarters was followed by Stanley Humphries High School, the Kinnaird Hall and then old Airport Terminal Building.
And finally the Kiwanis Hall, our current home since 1994. It is also the home of the community Sharing Pot, a soup kitchen that typically runs on Tuesdays at noon.
Why we've started a GoFundMe Campaign – Our current building is in need of desperate and emergency repairs.
In October of this year, members of the Sponsoring Committee, who regularly check on the building, noticed puddles of water on the main floor which has resulted in water damage. Water damage that will require significant remediation to the ceiling, main floor and basement.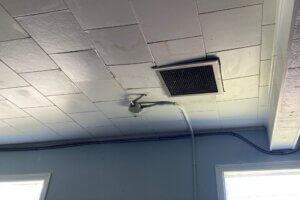 Although we had hoped the roof leak would be resolved by a repair, we have been advised a full roof replacement is now required. We are fortunate that our insurance will cover the extensive water damage that has occurred to the interior of the hall, with a deductible of $5,000.
However, the roof repair is NOT covered by insurance. The squadron sponsoring committee of the Castlegar Air Cadets is looking at approximately $30,000 to replace the roof. As a result of COVID and other fundraising challenges we are starting this GoFundMe campaign to raise the $30,000.
We are seeking your financial support to ensure that our Cadets and the community soup kitchen will continue to have a safe and secure place. Any excess over the $30,000 goal will be used for other building upgrades, and/or invested in other cadet programs (upgrade flight sims etc).
Thank you for your support.
581 Castlegar Air Cadets Squadron Sponsoring Committee